Doctors & Staff
Meet the experienced and friendly doctors and staff who make Carthage Vision Clinic the leading provider of vision care products and services in Carthage.
Dr. Gregory J. Goetzinger
Dr. Greg Goetzinger attended Missouri State University for his undergraduate studies. He received his Doctor of Optometry degree (with honors) from the University of Missouri-St.Louis College of Optometry in 1993. He completed his Residency in 1994. Upon completion of his Residency he entered the U.S. Army as a Captain and was stationed in Heidelberg, Germany where he worked at the U.S. Army Hospital.
Greg has served on numerous community boards and is very active in community programs. He participated on the Carthage Chamber of Commerce board for 5 years and served as Chairman of the board in 2002. He has also served as a board member of the Carthage Rotary Club and has served on the Innovative Industries board. Dr. Goetzinger is an active professional, as he belongs to the Southwest Missouri Optometric Society, Missouri Optometric Association and American Optometric Association. Dr. Goetzinger has held the position of Trustee on the MOA Board of Trustees and has also held the position of President of the S.W. Optometric Society.
Dr. Goetzinger has just completed serving as Immediate Past-President for the Missouri Optometric Association during 2009. This is a political association formed to help advance and protect eye care for the citizens of Missouri. He also serves as an Examiner for the National Board of Examiners in Optometry, an organization that assures competency of all new optometrists.
Dr. Goetzinger's family includes his wife, Cara, and two children, Lee and Madeleine. Cara is a teacher in the Carthage R-9 school district. Greg enjoys spending time with his family, hunting and sports.
Dr. Goetzinger enjoys the art of optometry and the ability to treat and heal people's visual problems. He has a large glaucoma and surgical (cataracts, and LASIK eye surgery) patient population.
Dr. Shelby N. Baugh Bruner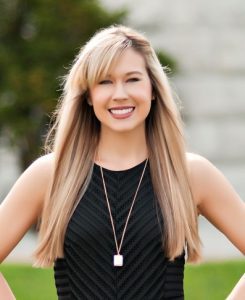 Dr. Shelby Baugh Bruner is a born and raised Carthaginian who decided she wanted to be an optometrist at ten years of age.
She graduated from the Carthage Senior High School in 2009. Her undergraduate studies were completed at
Missouri Southern State University, where she graduated with a Bachelors degree in Biology.
Dr. Baugh Bruner received her Doctor of Optometry Degree from the University of Missouri-Saint Louis College of Optometry.
She was a member of Beta Sigma Kappa, the national optometric honor society. She was awarded an InfantSee scholarship for her work and dedication to infant vision care.She was very active in optometry school organizations including the Missouri Optometric Student Association and the Fellowship of Christian Optometrists.
She is currently a member of the Missouri Optometric Association Leadership Team with three other young optometrists who are enthusiastic about advancing the profession of optometry.
Dr. Baugh Bruner enjoys volunteering and has participated in many community health screenings and Special Olympics vision screenings.
She plans to continue volunteering and being active in her hometown of Carthage.
Dr. Baugh Bruner's externships included community health care clinics, hospitals, educational facilities, and an Indian Health Service facility.
Her rotation schedule was heavy in ocular disease and pediatrics. She is excited to practice full scope family optometry and has a passion for fashionable eyewear!
Dr. Baugh Bruner is excited to be back in Carthage with her husband Chase Bruner and their daughter Reid.
Bernadette Mims
Bernadette is our office manager. She started working in our office in February 1999 as an ophthalmic technician,
and has been our lead technician since. She began her career as an ophthalmic technician in the U.S. Army for 5 years
before starting in my practice. Bernadette is a highly qualified and precise technician. She helps our current technicians
by performing pre-testing, secondary testing and teaching contact lens care. She also serves as our LASIK coordinator
and arranges all surgery and specialty referrals. She has had LASIK vision correction and can answer any of your questions.
Bernadette is also an active professional with a degree in Psychology and has served as President and Immediate Past President of the
Missouri Optometric Association Para-Optometrics Board. Bernadette also has received the Para of the Year award from the MOA.
She has one son with her first grandchild on the way. In her spare time she enjoys spending time cooking, reading and loves to travel.
Carie Ogden
Carie is our optician and laboratory technician. She is an ABO certified optician and has been helping people see better for 20 years. She cares how someone looks in their new eyewear and loves the dramatic changes she can make in their "spectacle makeover". She is very knowledgable in the latest lens materials and coatings which can often transform a patient's look as much as the new fashion frame, itself. Carie is a joy to work with and brings a little "sunshine" to our office.
When Carie is not at work, she spends time with her family and friends. She is a Kansas City Chiefs fan and loves football. She is also active in her church and sings in the choir.
Taryn Elder
Taryn moved to Carthage in 2000 when she married her husband Pete. She is our Assistant manager of the office and head ophthalmic technician
and works with all of our frame representatives to make sure our frame selection is always up to date.She is very friendly
and outgoing and has become an extremely valuable part of our team. She has five children and two grandchildren.
In her spare time she enjoys going to their many activities and sporting events. She also enjoys reading and watching movies.
Christie Sanders
Christie has lived in Carthage since 1991 and graduated from CHS in 1997. She is married and they have one daughter.
She is very active in her church and loves spending time with friends and family. We call Christie our first impressions coordinator because being our receptionist
she is the first and last person you see in the office.  She is full of energy, always smiling, and guaranteed to brighten your day.
Athen Taylor
Athen is from the Joplin area and work part time in our office.  She is trained to be proficient in all
areas of the office especially the optical department. She performs pre-testing, secondary testing and
teaches contact lens care. She loves to read and post on her blog. In her spare time she enjoys traveling, shopping and spending time with her family.
Karen Roggow
Karen is our billing manager and files medical and vision insurance for the office. She enjoys spending time with her husband, children and her grandchildren.